DogSpot Meals
MRP:
Regular price
Rs. 2,299.00
Regular price
Sale price
Rs. 2,299.00
Unit price
per
Sale
Sold out
DogSpot Meals is a ready-to-eat, complete meal for dogs. We make DogSpot Meals through a gentle steam cooking process. The proportion of fish is the highest among all the ingredients.
Fish can provide numerous benefits to a dog's diet, as it is a rich source of omega-3 fatty acids, protein, and essential vitamins and minerals such as Vitamin B12, iodine and selenium. Omega-3 fatty acids help with brain and eye development, skin health, and joint mobility. Protein is necessary for building and repairing tissues, while vitamins and minerals play important roles in various bodily functions.
Additionally, fish can also offer a great alternative source of protein for dogs with meat sensitivities or allergies.

No added preservatives or chemicals. No refrigeration is required. The slow steam cooking process helps sterilization of food

Human-grade ingredients: Made with Fish, Rice, Pumpkin, Carrot,, Ashwagandha & Water

Transparent & Honest Food: You can see, smell and even eat to check the ingredients yourself

Natural & Made in India: Made with ingredients you would find in your own kitchen. Globally accepted dog food recipe Made in India

Best Before Best before 12 months from the date of manufacturing even when stored at room temperature

100% money-back guarantee. If your pet doesn't eat  DogSpot Meal, we will take the unused food back and refund the money. No questions asked

Environment-friendly Packing: 100% recyclable pouch and packaging
Health Benefits & Ingredients:


Fish: We source high-quality human-grade freshwater fish, rich in proteins, fatty acids, minerals, and vitamins. Fish contains essential fatty acids which makes it nutritions.
Pumpkin: Pumpkin is a superfood for dogs. It is a good source of essential vitamins, minerals, and fiber. It is also a natural stomach soother and reduces the chances of diarrhea.
Carrot: Carrot is a great source of Vitamin A. It provides support for eye, skin, & coat health and a thriving immune system.
Rice: Rice, besides providing the daily dose of carbohydrates, provides many health benefits for dogs. Antioxidants in rice defend against diseases and prevent cognitive dysfunction in aging pets.
Ashwagandha: Ashwagandha has been used since ancient times to promote health and longevity. It has anti-aging properties. It significantly reduces serum cortisol levels, implying that it provides support for stress management and improves cognitive functions.
Nutritional Analysis (Per 100g Food):
Protein 13%, Fat 11%, Fibre 1.5%, Moisture 70%, Energy- 178 Kcal
Other Important Instructions:
Do Not Use the pouch if the pouch is leaking or puffed

Pouch ingredients should be consumed immediately. Open pouch should be stored under refrigeration (around 2-5 degree Celsius)

Store the sealed pouch in a dry and cool place
Share
View full details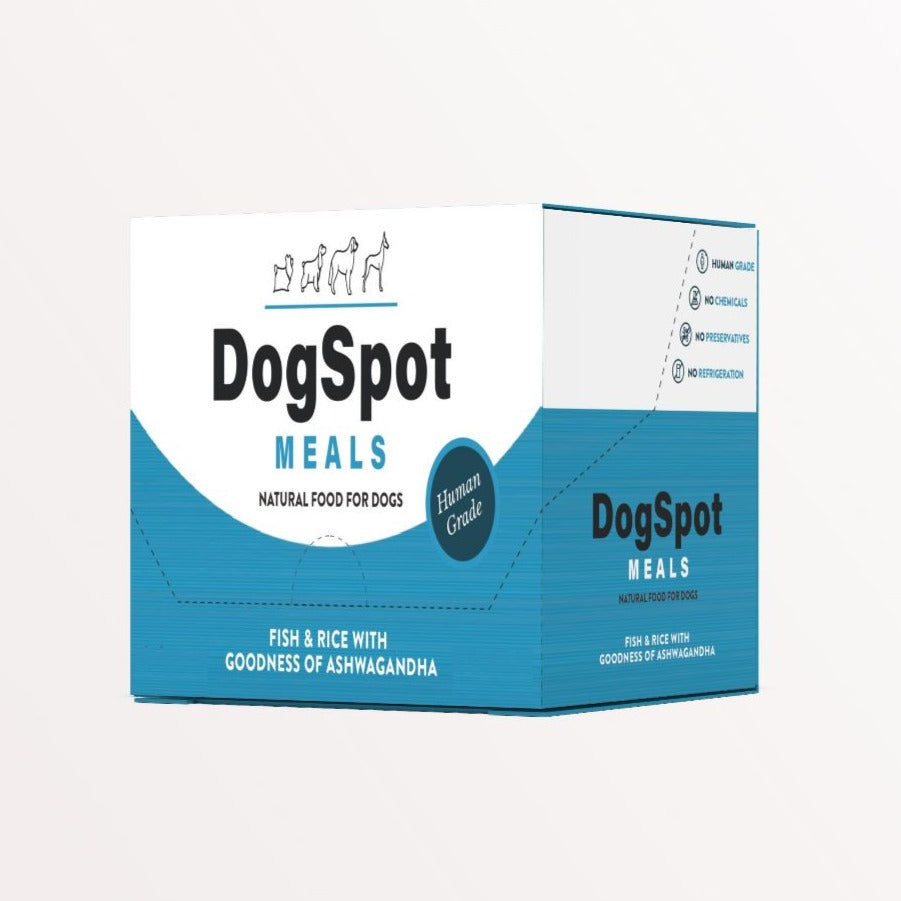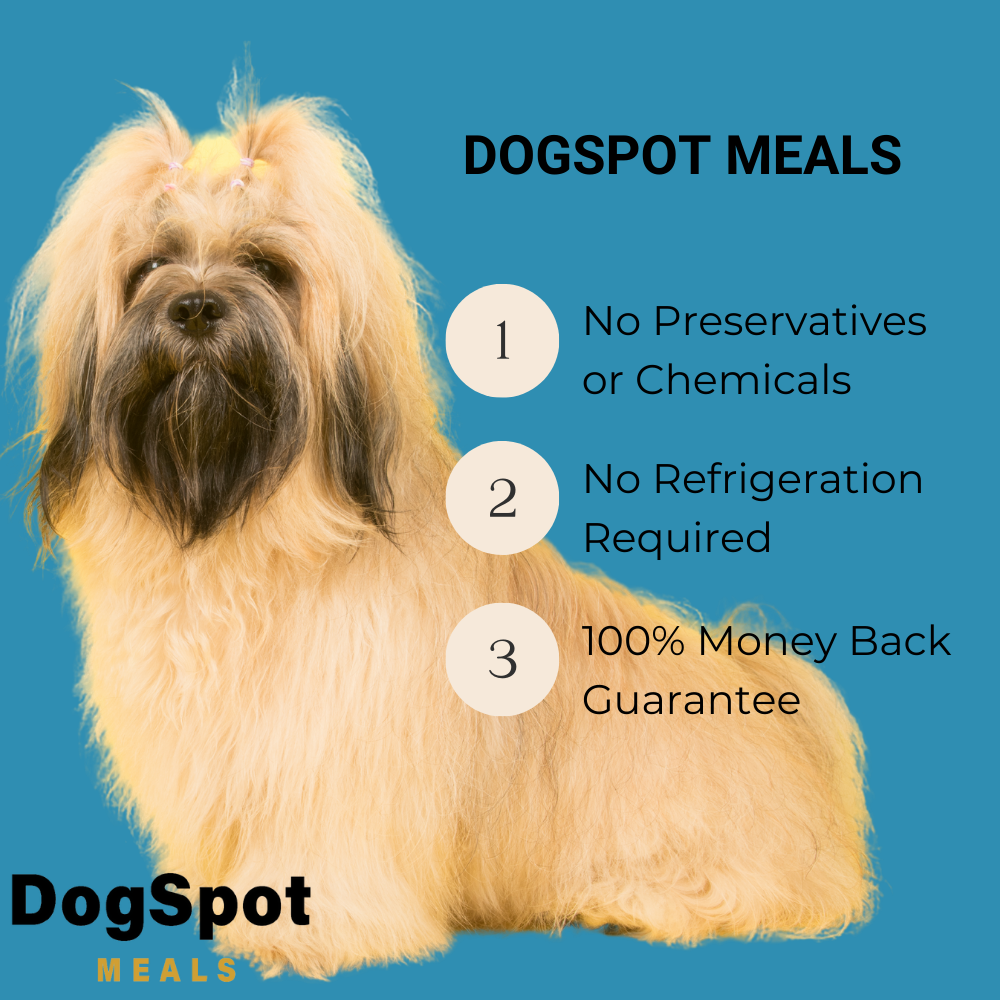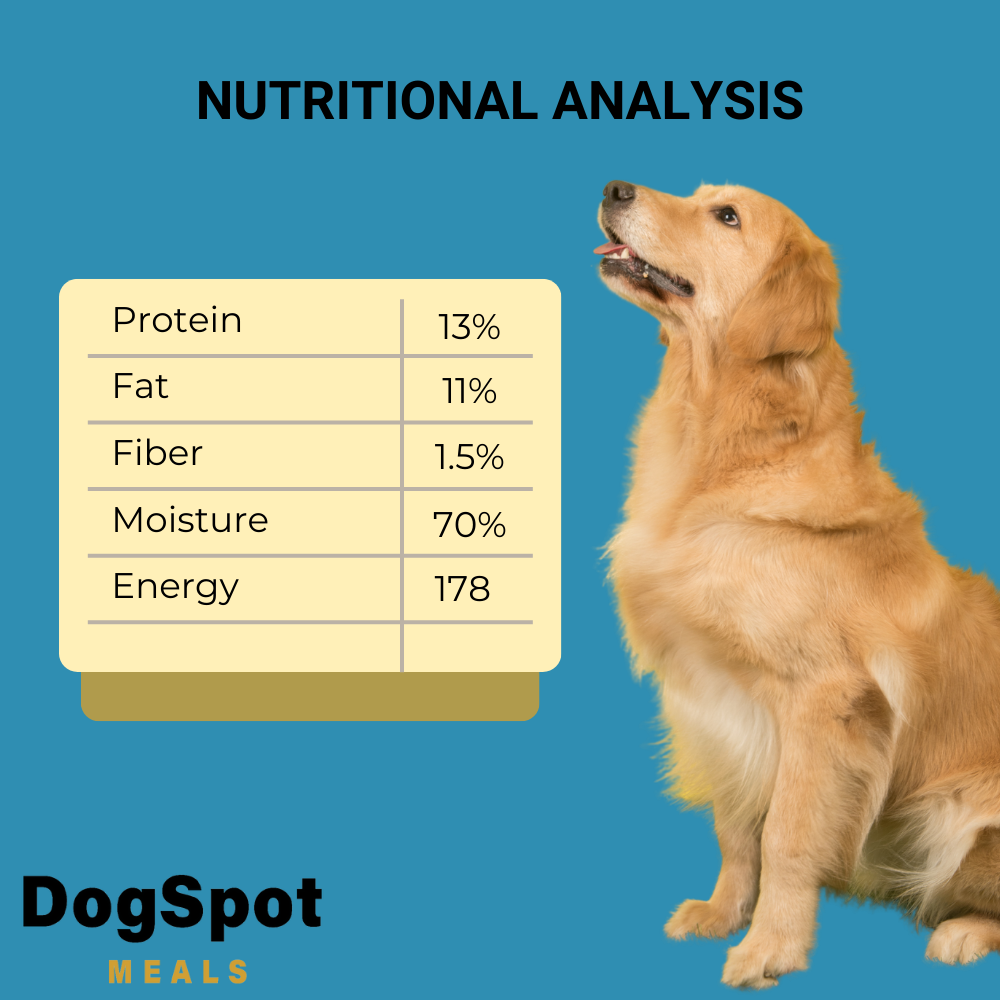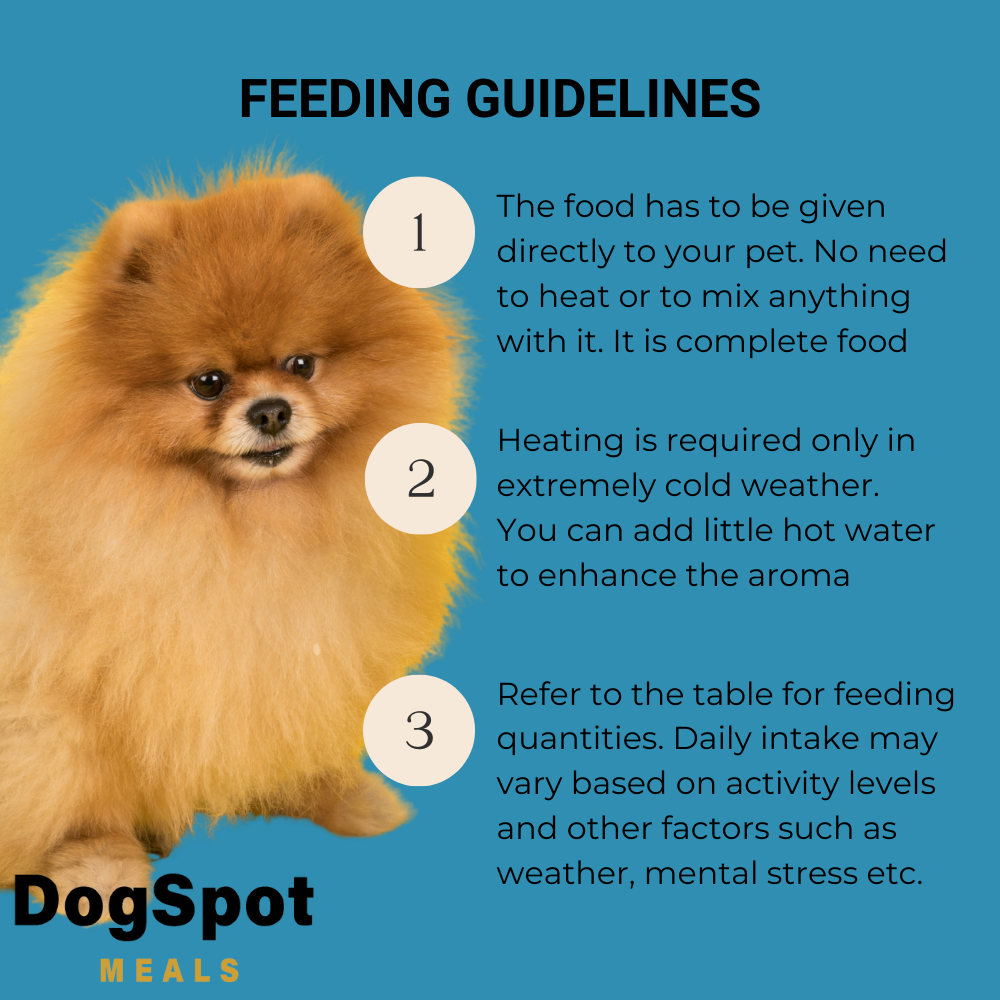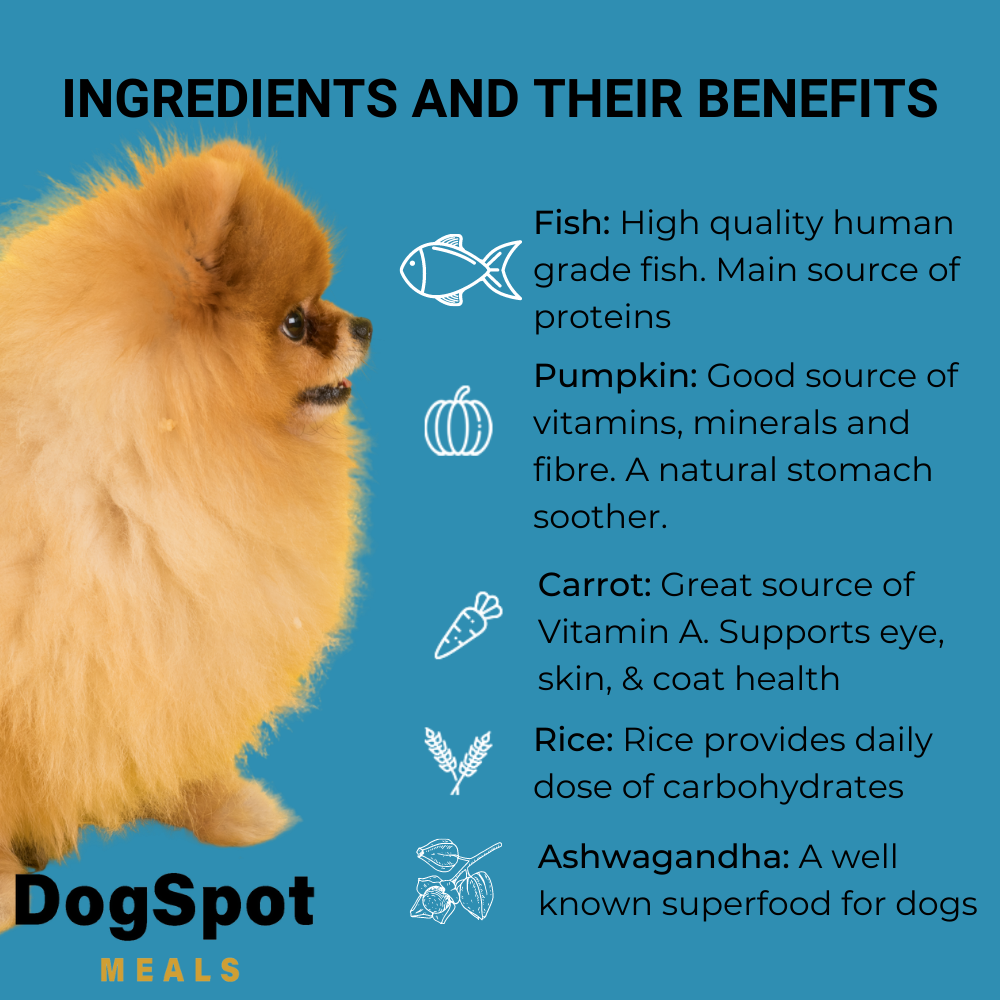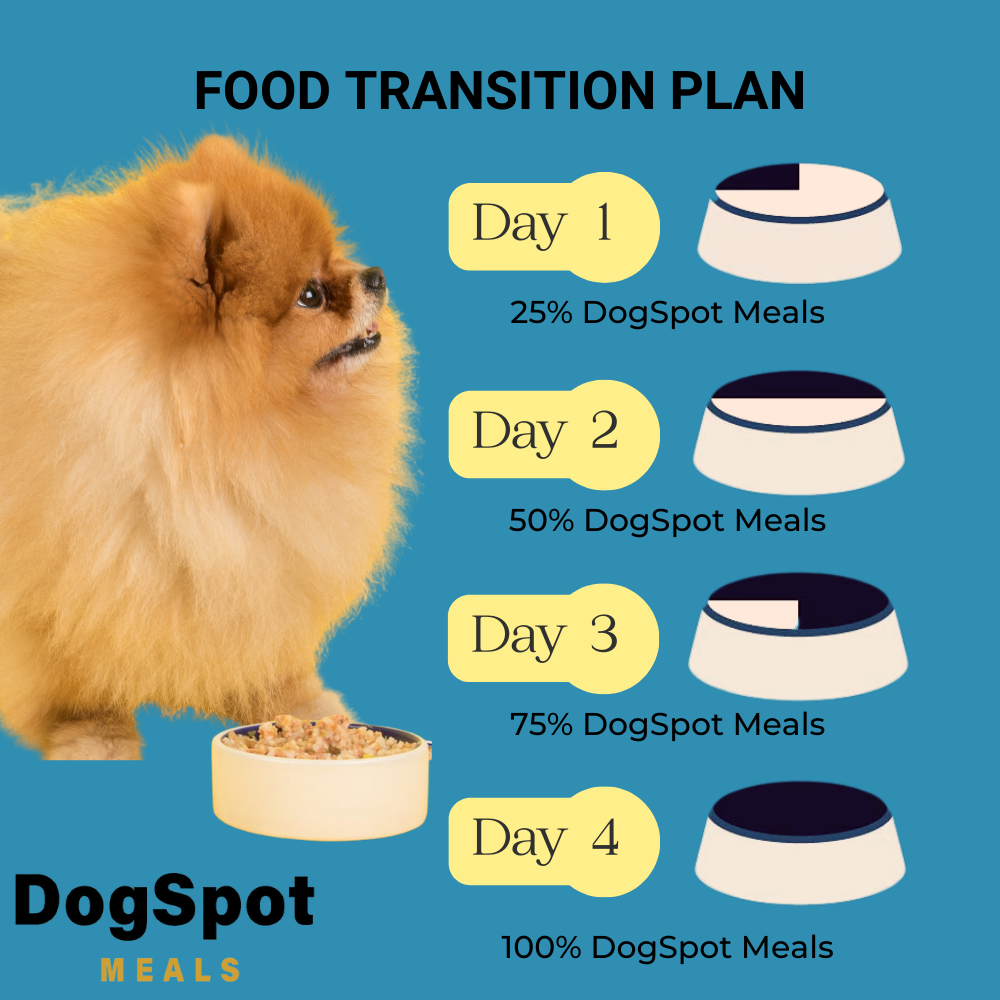 Answer your customers' common questions
What is the shelf life of the meals?

They comfortably last up to 12 months from date of manufacture. You just need to store them in a cool, dry place.

Once a pouch is opened though, it needs to be refrigerated and consumed within 12 hours
How can it be fresh and have no chemicals/ preservatives with such a long shelf life?

The process we use for preparing and packaging the meals ensures they remain fresh. We use retort packaging, wherein the packed food is cooked in a non permeable packet, ensuring all microbes are eradicated thereby sterilising the food.
Is DogSpot Meals gluten free?

Yes, it is. The chicken and rice recipe doesn't have wheat or its derivatives.
Is the food Hypoallergenic?

No it is not. If your dog is allergic, please consult your veterinarian before feeding DogSpot Meals.
Is the food safe for Lactating or Pregnant Bitches?

Yes, the food has balance and right calorific value to suit the need of bitches in whelp. However, daily requirements may vary. Please contact us to know the right feeding guidelines.
Do I need to use vitamins or any other health supplements along with DogSpot Meals?

No, we do not recommend adding any diet supplements for healthy dogs. However, if your dog is suffering from some deficiencies you may consult your veterinarian.
Is it okay to use DogSpot Meals as a topping on the kibble?

DogSpot Meal is a complete meal and we do not recommend mixing it with kibble. You may try DogSpot Chicken Gravy for food toppings.
Are there any subscription plans for me to get food on more discounts?

Yes, you can contact our pet experts to know about subscription plans.
Mine is a vegetarian household. We don't even buy chicken from outside and cook in our kitchen. Do your meals need to be heated and served?

Not at all. Our meals are ready to eat. You just need to cut open the pouch and serve it in your dog's bowl and he/ she can have them!
Can I feed DogSpot Meals for a weight control program for my pet?

Yes. DogSpot Meals converts excess fat into muscle and helps attain optimum weight. However it is best to speak to our experts.
My dog is not eating as much as he used to eat in winter months. Is there any change in the recipe?

Most dogs eat less or very little in the beginning of the summer. It is best to feed them more in the evenings than in the daytime. You can also try to divide the daily recommended diet into smaller portions. Some pet parents freeze DogSpot Meals and serve it chilled.